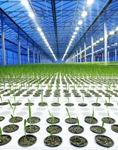 Vogue magazine recently listed BIOEFFECT EGF SERUM, designed by Iceland-based biotechnology company, Sif Cosmetics, which specialises in cosmetic products, in its Most Striking Beauty Innovations of the Year.
A key innovative ingredient in the anti-ageing serum is the human-like EGF (Epidermal Growth Factor). EGF is a substance which occurs naturally in human skin and which has the ability to speed up the rate of cell turnover within the skin.
Extensive research on the role of EGF and how it stimulates the activation and renewal of skin cells is well-documented and recognised in the scientific community. However, the innovative aspect to Sif Cosmetics process is that the company has been able to produce the EGF in DNA engineered barley seeds, making it more stable and active.
The company is based on biotechnological research that was started by its mother company ORF Genetics in 2001. The company develops and specialises in high quality skincare products with a scientific foundation.
Dr. Bjorn Orvar, Founder and CEO of Sif Cosmetics, commented, "It has been great for us here at Sif Cosmetics to witness our unique product receive so much praise and attention in what is a fiercely competitive market. When designing the BIOEFFECT EGF SERUM, our mission was to develop a product that delivers real results – we set this scientific standard for all of our products and it is encouraging to receive recognition from such a respected publication as Vogue."