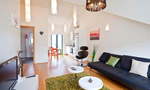 In light of Reykjavik being voted as the most favourable city to visit in 2012 by Lonely Planet's readers, Reykjavik4you is offering exciting apartment hotels in Reykjavik at a reasonable price in order for visitors to find out why the city was voted number one.
With twenty apartments in downtown Reykjavik, Reykjavik4you offers everything needed for an incredible stay in the city. All of the company's apartments are conveniently located within short walking distance from most shopping facilities in the downtown area, as well as from Reykjavik's main attractions.
One of the apartment blocks is located just off Skolavordustigur, one of the oldest streets in Reykjavik, which houses a variety of interesting shops, restaurants and cafes. The other location, which offers deluxe two bedroom apartments, sits just off Reykjavik's main shopping street, Laugavegur.
Each Reykjavik4you apartment is furnished and comes with a fully equipped kitchen and bathroom; towels and linens are also complimentary. All of the apartments feature a flat screen TV, a DVD player, a stereo and free Wi-Fi Internet access.
Just 5 minutes away, close to the famous Hallgrimskirkja church, one of Reykjavik's many swimming pools is to be found, which offers hot tubs, sauna and steam baths.
Reykjavik4you will also help you to book a day tour in Iceland in partnership with all the major travel companies in Iceland. Tours can be booked at the reception desk and once booked, visitors will be picked up directly at the apartment and returned there at the end of the day.
In addition, Reykjavik4you is currently working on the renovation of one of Reykjavik's oldest stone houses, which is located next to the apartments just off Skolavordustigur. The company plans to furnish the house with traditional Icelandic decor and make it available as a relaxation spa with massage bathtubs and more.
For further information regarding apartment hotels in Reykjavik, visit www.reykjavik4you.com.