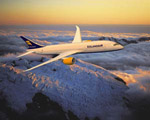 Iceland's leading airline Icelandair has announced that it will be initiating the new pricing rules outlined by the Department of Transportation (DOT), effective immediately.
Earlier this year, the Department of Transportation announced new rules governing how airlines must advertise fares; all airlines must adhere to these guidelines and include all government fees and taxes in any advertised pricing.
These new pricing rules are to be implemented starting January 24th, 2012. However, with customer interest in mind, Icelandair has initiated these changes effective immediately.
"We feel this early transition makes sense and will simplify budgeting for passengers making travel plans with Icelandair," said Thorsteinn Egilsson, General Manager, Icelandair -The Americas.
Optional fees such as additional baggage costs, meal service, upgrades or other optional charges are not shown in the fare but will be listed in a disclaimer when prices are advertised.
Icelandair, the national carrier of Iceland since 1937, offers three cabins of service including leather seats and personal in-flight entertainment for all travelers. The new pricing structure will follow the airlines philosophy of giving passengers a refreshing travel experience from start to finish.
Icelandair offers non-stop service to Iceland from Boston, New York-JFK, Seattle, and Denver, starting May 11, 2012, with seasonal flights from Washington, D.C., Minneapolis – St. Paul, Orlando Sanford, Halifax, and Toronto. Connections through Icelandair's hub at Keflavik International Airport are available to over 20 destinations in Scandinavia, the UK, and Continental Europe. Icelandair also allows passengers to stopover in Iceland at no additional airfare.
For more information about flights to Iceland and fares with Icelandair, call (877) I-FLY-ICE or go to www.icelandair.us.