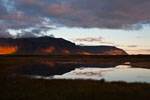 Iceland and its capital, Reykjavik are both currently topping the polls, making appearances in National Geographic and Lonely Planet as popular 2012 travel destinations.
The country topped the National Geographic Traveller Magazine's list of the world's best travel destinations for 2012, claiming it was a "final relic from the world's last ice age."
Iceland also finished top of the Lonely Planet's annual "Best in Travel" list as the readers' choice for the best destination in the world. Iceland received a total of 32 percent of votes cast, 19 percent more than 2nd place, Italy. In addition, Reykjavik was chosen as the most exciting city to visit in 2012.
The country's waterfalls and volcanoes were a major hit with Lonely Planet readers who were also attracted by the country's untouched nature and pristine landscapes. Other attractions included the bustling nightlife and "the creative energy of the population."
Furthermore, Reykjavik was recently named as the World Festival and Event City in 2011 by the International Festivals & Events Association (IFEA). A panel of industry experts awarded the city, stating:
"Reykjavik enjoys a surprisingly energetic and inspiring community of artists, musicians, writers and designers. This creative group finds one of its outlet in the cities numerous festivals and events. Reykjavik offers ongoing festivals and events throughout the year. The city is the home of around 30 festivals annually which focus on everything between tango and the Icelandic horse, and design and cutting edge theatre."
Moreover, the Icelandic President kick started a tourism campaign by inviting tourists to join him for pancakes in the presidential residency. The campaign is aimed at Icelanders opening their doors to visiting tourists in order to offer an exclusive glimpse at the Icelandic way of life. Numerous invitations have been sent out to the world online so that people can plan their trip before travelling to the country. The invitations can be viewed at www.inspiredbyiceland.com.
Photo: Oli Kristinn – http://flickr.com/olafur