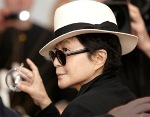 The Icelandic Benefit Society of Children with Disabilities launched its 9th Globe of Goodwill yesterday morning. The Globe of Goodwill 2011 is by Yoko Ono and called DRAW YOUR OWN MAP. The event took place at the Reykjavik Art Museum in Iceland and drew a big crowd.
Yoko Ono presented the Globe and talked about the importance of world peace and her hopes for the future. She encouraged the audience to do what they can to change the world for the better and pointed out how powerful wishes are and that all the little deeds count.
The Globe of Goodwill is a beautiful work of art and a delightful collector's piece, but its contents give it its true value – love and friendship. The Globe is handmade and every edition is limited. No two Globes are exactly the same but each of them is beautiful in its own way. All proceeds of sales are donated to work for the benefit of children and other young people with disabilities. The name of The Globe is therefore symbolic of that which it represents.
Every year the Globe of Goodwill is awarded to a worthy role model whose work has challenged traditional values and views, inspired others to think differently and bettered the lives of fellow-citizens and society as a whole.
Leifur Leifsson, the recipient of the Globe of Goodwill 2011, has been an inspiration for others to challenge established norms, to step outside their comfort zone and to spread their wings. Leifur has shown through his actions, his accomplishments and his views on life that a world without boundaries is possible. He is truly a worthy role model.
Yoko Ono and Thordis Yurie Jonsdottir, a young girl of Icelandic-Japanese descent presented Leifur Leifsson with this year's Globe of Goodwill in recognition of him being a worthy role model.  Thordis Yurie is one of many kids that have benefitted from the Globe of Goodwill.
Eva Thengilsdottir, master of ceremonies, thanked Yoko for her invaluable contribution and added: "Yoko Ono is a distinguished artist… more so she is a citizen of the World – reaching across borders and frontiers and challenging the traditional boundaries of art – and of life itself. Yoko's passion in her quest for world peace has inspired us as well as millions of others, we are humbled by her courage and stamina and truly honored by her support."
Previous Globes of Goodwill are:
– 2003 2 PAINTERS by Erro
– 2004 THE EYE BALL by Olafur Eliasson
– 2005 WITHOUT BEGINNING – WITHOUT END by Ruri
– 2006 SALT OF THE EARTH by Gabriela Fridriksdottir
– 2007 CIRCLE by Eggert Petursson
– 2008 BREATH OF LIFE by The Icelandic Love Corporation
– 2009 TOUCH by Hreinn Fridfinnsson
– 2010 DISTANCE by Katrin Sigurdardottir
To support this project, click here.