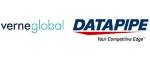 Verne Global, owner of the power conscious data centre campus at Asbru Enterprise Park in Iceland, announced yesterday that it has entered a joint agreement with the U.S. based company Datapipe to deliver carbon neutral managed IT solutions.
Datapipe, a provider of managed services for IT and cloud computing, and Verne Global will also be delivering a green cloud and disaster recovery service direct from Verne Global's purpose-built Icelandic data centre facility.
According to the Datapipe website, Robb Allen, CEO of Datapipe, commented, "Verne Global has engineered an environmentally sustainable data centre…Power and cooling efficiencies combined with the strategic geographic location will provide our clients with an option for carbon neutral, enterprise ready IT services and a 100 percent green cloud."
Verne Global's data centre campus at Asbru in Iceland is 100 percent carbon neutral, drawing commercial power from renewable energy sources – hydroelectric and geo-thermal – whilst utilising the country's natural temperatures to provide free cooling.