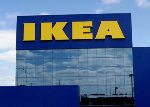 The founder of IKEA is facing mounting questions about his past, after a new book accused him of more involvement than previously thought in the Swedish Nazi party.
Ingvar Kamprad previously claimed that his known flirtation with fascism was the "greatest mistake" of his life and mere youthful "stupidity", but author Elisabeth Asbrink has now accused the billionaire of being an active recruiter for the Swedish Socialist Union (SSS) and staying in touch with Nazi sympathisers after WWII.
Asbrink clams security police set up a file on Kamprad in the year he founded IKEA when he was just 17. After intercepting his post, they apparently found he "had some sort of functionary position" in a youth Nazi organization. The intelligence services have, however, refused to confirm or deny the author's claims.
The tycoon, who is known for his frugality by still driving a beat-up Volvo and travelling by air in economy class, admitted in a 1988 book that he was previously a member of the New Swedish Movement and a friend of fascist activist Per Engdahl. Ms Asbrink claims that Kamprad told her in an interview last year, however, that: "Per Engdahl is a great man, and I will maintain that as long as I live."
A spokesman for the tycoon, who has officially handed ownership of IKEA to a Dutch charitable foundation, despite beliefs that the furniture chain still largely belongs to him, claims: "There are no Nazi-sympathising thoughts in Ingvar's head whatsoever."