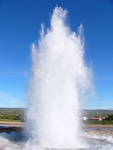 Iceland tour expert Reykjavik Excursions is offering a special discount price for its Golden Circle tour throughout the whole of July.
Despite the discount price, Reykjavik Excursions' Golden Circle tour is rich with Mother Nature's greatest wonders. During the tour, visitors will get the chance to walk around the world-famous Geysir geothermal area – a geothermal field where hot springs are in abundance and geysers explode.
Additionally, tour participants will get to see the magnificent Gullfoss waterfall and then continue on to the rift valley of Thingvellir National Park, where the first Icelandic parliament, Althing, was established.
Included within the tour is bus fare, tour guidance in English and entrance to Geysir Museum. Reykjavik Excursions also offer guidance in German on Tuesdays and Saturdays, French on Thursdays & Sundays, and Scandinavian languages on Fridays.
For more information regarding tours in Iceland, including the Golden Circle tour with Reykjavik Excursions, visit www.re.is.
Please note: The Golden Circle tourist route is still free to access via all vehicles and is not affected by the current glacial flooding in Myrdalssandur.
About Reykjavik Excursions
Reykjavik Excursions is an Icelandic tour provider and travel agent operating one of the biggest bus fleets in Iceland, making the company one of the largest organisers of tours both for individuals and groups in Iceland.