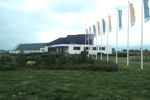 The Nordic House in Reykjavik, Iceland is now offering guided tours around the impressive building designed by the world famous Finnish architect, Alvar Aalto.
Guests, lead by an actor impersonating Alvar Aalto himself, are taken through the history of the Nordic House, introduced to other Aalto designs and the designer's history, as well as presented with culinary samples of "New Nordic Food" from Dill Restaurant – a contemporary Nordic restaurant that utilises classic Nordic ingredients in a modern way.
Dill Restaurant, located within the Nordic House, is an acclaimed restaurant run by Chef Gunnar Karl Gislason, Captain of the Icelandic Culinary Team, and Olafur Orn Olafsson, President of the Icelandic Sommelier Association. In 2009, Dill was awarded the Nordic Prize for Best Restaurant in the Nordic Region and since, has retained its reputation as one of Reykjavik's top dining establishments.
In addition to the restaurant, the Nordic House organises a diverse program of cultural events and exhibitions, and also maintains a library dedicated to Nordic literature. The goal of the Nordic House is to foster and support cultural connections between Iceland and the other Nordic countries with its facilities and events. Furthermore, there is a shop for Nordic design and food products, exhibition space and auditoriums.
The house also accommodates some of Iceland's biggest cultural calendar events such as the Reykjavik International Film, Iceland Airwaves, and The Nordic Fashion Biennale – launched by the Nordic House.
The guided tours take place Monday- Saturday at 11 am and 1 pm.
For further information about the Nordic House in Reykjavik and the Alvar Aalto guided tours, visit www.nordichouse.is.
About the Nordic House
The Nordic House is designed by acclaimed Finnish modernist architect Alvar Aalto (1898-1976). The house is one of his later works, a hidden gem amongst the better known masterpieces, and features most of Aalto's signature traits. These are evident in the ultramarine blue ceramic rooftop that takes its organic shape from the mountain row in the background, the central well in the library and the extensive use of white, tile and wood throughout the building.