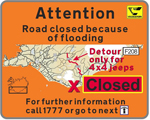 Following a glacial flood from Myrdalsjokull glacier last Saturday, which swept away the bridge across Mulakvisl river, the road across Myrdalssandur in South Iceland is closed (Road nr. 1 – The Ring Road). Reconstruction of the bridge is underway, and alternative means of transportation across the river are under consideration. As from today large 4×4 trucks will ferry people and smaller cars over the river. Authorities will make every effort to restore traffic across Myrdalssandur back to normal as soon as possible but it is expected that building a new bridge will take about 2 weeks.
Alternative back road – Route F208
An alternative back road north of the glacier (Route F208) is open to 4×4 vehicles. Travellers should be aware that the road is only passable in full size four wheel drive vehicles such as Land Rovers or larger vehicles. Law enforcement has been increased on that route and the Icelandic Search and Rescue Teams have increased their presence in the area in order to assist travellers.
Special road sign
A special road sign has been made to warn foreign tourists about the situation regarding the closed Ring road. The sign, see the picture, will be set up in six places tomorrow July 12th. The sign will be at Seydisfjordur, 2 around Egilsstadir, at Kirkjubaejarklaustur, close to Hella and in Reykjavik by Raudavatn on the way out of the city to the south.
Websites to follow:
Promote Iceland – www.iceland.is
Iceland Civil Protection – http://www.almannavarnir.is
Icelandic Road Administration – http://www.vegagerdin.is