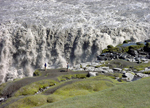 The 'Ultimate Highland Experience' with Nordic Travel is a self drive holiday with a difference. Over a total span of 15 days (14 nights), travellers will get to explore 'real' Iceland, moving from one incredible location to another, changing hotels every day.
A self drive holiday in Iceland allows visitors to experience the country at their own pace whilst at the same time catering to their own specifications and desires.
Thrilling highlights of the 'Ultimate Highland Experience' include visiting Borgarfjordur with the Hraunfossar waterfalls; the Kaldidalur mountain pass; Thingvellir National Park, the site of Iceland's ancient parliament; Iceland's most famous highlights, the Geysir hot spring area and Gullfoss waterfall; Thjorsardalur valley, with its beautiful and romantic valley Gjain and Haifoss falls; Lake Myvatn with all its wonders of nature, including Dimmuborgir Lava Labyrinth and Namaskard solfataras; Jokulsarlon Glacier Lagoon, with its floating icebergs; Eldgja, an enormous volcanic fissure; a view of Mount Hekla, Iceland's most notorious volcano and the beautiful Thorsmork Nature Reserve.
Nordic Travel caters for trips of various lengths and interests with its main specialty being individual travel. The company can make all of the arrangements necessary for a self drive holiday including car rental, accommodation, and comprehensive route descriptions.
Nordic Travel's 'Ultimate Highland Experience' is available from 20th June and throughout August.
To find out more about the self drive holidays in Iceland, visit www.iceland-nordictravel.com.