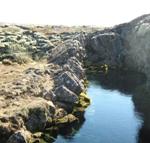 The Iceland travel provider, Reykjavik Taxi Travel is now offering trips to the Golden Circle in Iceland, where visitors can experience the Geysir hot springs, the Gullfoss waterfall, and the magnificent Thingvellir National Park.
Reykjavik Taxi Travel can accommodate 1 to 8 passengers and provides a professional, licensed taxi driver with a vast knowledge of the Golden Circle sites.
In addition, the company provides pre-planned day tours with great flexibility and tours which can be customised and planned from scratch, enabling passengers to go exactly where they want to go.
The company offers an airport transfer service, collecting you directly from Keflavik International Airport and taking you to any hotel in Reykjavik, or any other destination you desire. Furthermore, since Reykjavik Taxi Travel is a taxi company rather than a tour provider, you can go anywhere you want in Iceland in style and comfort.
To book a taxi in Iceland and to learn more about the company's services, visit www.reykjaviktaxi.is.