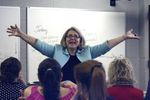 Five Swedish teenage girls have been questioned about the savage beating of a fellow Swedish schoolgirl in Malmo.
The victim was attacked in a hallway of Dammfri School on Friday, according to Sydsvenskan, a local newspaper. The report said that the 14 year-old student was brutally beaten until she lost consciousness and that the event was captured on CCTV, enabling authorities to quickly identify all of the students involved.
Local police spokesman, Mats Thimgren, told Sydsvenskan, "They jumped on top of each other and the fight ended with them kicking and hitting the girl until she became unconscious, or at least badly dazed." He went on, "Among other things, they jumped on her head while she was on the ground. We're classifying it as aggravated assault."
School officials said the girl was quickly rushed to hospital in an ambulance where she received treatment; doctors have classified her injuries as minor. Mr Thimgren said that a motive for the beating has not yet been established.
Because all of the girls involved in the case are below the age of 15, it has been handed over to the social services department. In Sweden, 15 is the official age of criminal responsibility.