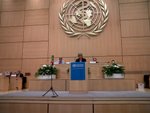 At the 64th World Health Assembly of the World Health Organization currently in session in Genf, Anna Lilja Gunnarsdottir, Permanent Secretary in Iceland's Welfare Ministry, gave a speech in which she mentioned that the United Nations' Decade of Road Safety was just beginning. She said that the authorities in Iceland had decided on several actions relating to the decade, including giving support to the Institute of Spinal Cord Injury Iceland (ISCI). Almost half of the people who suffer spinal cord injuries and paralysis because of accidents are injured in traffic accidents.
ISCI was established in 2007. Its role is to encourage international co-operation in order to formulate a basic medical policy for those who sustain spinal cord injury. Audur Gudjonsdottir R.N.O.R., the ISCI's chairperson and mother of a girl with a spinal cord injury, says that it is wonderful that the Icelandic authorities have now decided to apply political influence to assist scientific advances relating to spinal cord injury. She says that spinal cord injury is categorised as an orphan injury, which means that the free market will not benefit if a cure is found. While that is the case, very little will happen in that field, and it is for this reason that the international community should take action and assist.
Audur says that she is proud of the Icelandic authorities who have taken the initiative in embracing the orphan injury and working towards finding a beneficial result. She also says that Gudbjartur Hannesson, Iceland's Welfare Minister, will attend a meeting of Nordic welfare ministers in June, in which he will draw attention to a proposal Iceland has already submitted to the Nordic Council of Ministers. The proposal recommends that the Council of Ministers should set up a working group of doctors and scientists whose role will be to examine published material covering basic research into the spinal cord, taking into account the sharing of that knowledge.
Audur adds that the President of Iceland is now assisting the ISCI in finding a globally recognised individual who is prepared to offer themself as a spokesperson to push for the assistance that the science of spinal cord injury needs in the near future.