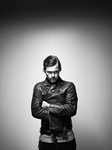 Icelandair is exclusively premiering the new album from Icelandic electro pioneers Gus Gus a month before its release. The album titled, Arabian Horse, set to be released on 23rd May, is currently being premiered a month in advance for Icelandair passengers – the first time a record has been premiered during a flight.
The new album, Arabian Horse is to be the 8th release by Gus Gus, who have sold over 700,000 albums worldwide. "People will be listening to this album for the first time at 30,000 feet," explains DJ Margeir, one of Iceland's most successful club DJs. He followed by saying, "when you think about the fact that Iceland's population is around 320,000 people, it's incredible how much Icelandic music has spread throughout the world…of course we have bad music here in Iceland, but you'll have to fly with someone else to hear that." The album premiere is a part of Margeir's contribution to Icelandair's in-flight entertainment system.
DJ Margeir is also contributing his own musical expertise to Icelandair's in-flight entertainment system. Icelandair passengers will no longer hear playlists of top 40 hits that seem as randomly compiled as an iTunes DJ. Instead, DJ Margeir has selected 40 albums and created 7 unique playlists comprising the most exciting Icelandic and international music.
"I want people to listen to this music and have a different experience," explains DJ Margeir on his decision to become involved in this new project. "I want them to put on their headphones and for the music to inspire them somehow, to expand their musical horizons."
Biggi Virus from Gus Gus also added, "I travel a lot myself and it got me thinking, it would be interesting to have the opportunity to listen to new and exciting music onboard; I thought this was a great reason to get involved."
Highlights of the prolific DJ's playlists include James Blake, Gus Gus, Hjalmar, Arvo Part, Ligeti, Gorecki, Caribou, Four Tet, Beach House, Neu!, Nicolas Jaar, John Coltrane, Trentemoller, Bjork and Sigur Ros.
Icelandair's musical revamp is part of its broader philosophy to maximise the positive travel experience for customers, giving them a taste of Iceland even if they travel no further than Keflavík Airport. The idea with the music is that customers can choose from any playlist and listen to a carefully composed mix without making any effort, or they can select individual tunes or albums using their touch screen menu – these playlists will be changed every three months.
To find out more about Icelandair's in-flight music, including the premiering of Arabian Horse by Gus Gus, as well as booking flights to Iceland, visit www.icelandair.com.