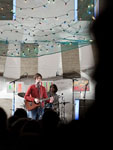 Upcoming Icelandic music festival Aldrei for eg sudur (I never went south), taking place on 22-23 April 2011 in Iceland's Westfjords, is to be streamed live via the Inspired by Iceland website, giving music lovers across the world a chance to tune in and be a part of one of Iceland's most celebrated music festivals.
Located in the wonderful setting of Isafjordur, Aldrei for eg sudur is a music festival like no other. The festival brings together live performances from local bands with the biggest names in the Icelandic music scene, all surrounded by the beautiful mountain slopes and quaint, colourful town houses.
Aldrei for eg sudur first began as an idea between Icelandic musician Mugison and his father, both of them Isafjordur natives. They were both keen to showcase Isafjordur's vibrant music scene, and wanted to have as much fun as possible while doing it. Since its inception in 2004, the festival has gone from strength to strength, with festival-goers praising the relaxed atmosphere, unique location and the consistently strong festival line-up.
Artists scheduled to play this year include FM Belfast, Pall Oskar, Soley, Ensimi, Miri and Lazyblood, amongst others. Also unique for 2011 will be the live streaming of the festival via the Inspired by Iceland website, www.inspiredbyiceland.com, starting on Friday April 22 at 8 pm and Saturday April 23 at 6 pm Greenwich Mean Time (GMT).
Those who want to invite their friends to watch the concert can send a free e-card with stunning photographs from Iceland, on www.inspiredbyiceland.com/stories/e-cards. Senders can choose their own message and greeting to surprise their family and friends.
Photo taken by Agust Atlason.