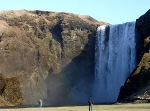 The Iceland travel and tour provider, Netbus is currently offering an all-in-one special offer which includes airport transfer, a trip to the Blue Lagoon, the Golden Circle tour and the Southern Iceland tour.
The Iceland tour allows participants to experience the cleansing ingredients of the Blue Lagoon, the astonishing sites of the Golden Circle; Geysir, Gullfoss and Thingvellir, and the impressive waterfalls, mountains, rivers and glaciers of Iceland's south coastline.
The Southern Iceland Tour also visits the fishing village of Eyrabakki, as well as the glacier Solheimajokull and the small town of Vik. Furthermore, on the drive back, visitors get to see the black beach Reynishverfi with its basalt columns before stopping off at the magnificent waterfalls Skogafoss and Seljalandsfoss.
A Netbus professional guided coach tour is undoubtedly the best way to experience Iceland, as the company believes in providing its customers with expert knowledge about the country's unique landscape and history.
For further information about Netbus and its various Iceland tours or to book the Special Offer + Glacier tour, check out www.netbus.is.  Additionally, follow the company on Facebook.