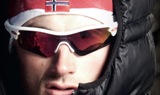 The Norwegian cross country skier and double Olympic Champion, Petter Northug, claimed the gold medal in a stunning 30km pursuit at the FIS Nordic World Ski Championships in Oslo, Norway. Northug, who won four medals at the Vancouver Olympics last year, two of which were gold, was the pre-race favourite and did not disappoint.
The Norwegian gold medalist, who broke clear with 200m to go, finishing in a time of 1:14:10.4 hours, said winning gold at the world championships in Norway meant at least as much to him as his 50K Olympic win in Vancouver.

Northug commented, "This was maybe my biggest dream and the greatest accomplishment for a Norwegian skier…but it's hard to compare; I think it's almost even."
Russia's Maxim Vylegzhanin trailed the Norwegian by 0.7 seconds consequently revelling in his podium finish, knowing Northug is nearly impossible to beat once he gets a strong lead.
"He's very strong approaching the finish line," commented Vylegzhanin. "He was too good today but we're working on the case."
Despite the win, the 25-year-old won't be participating in the next cross-country event, which takes place today, as the Norwegian coaches want him to save his strength.
"Given the total burden here and that we want to do well in both the 50-kilometer race and the relay, it wasn't a difficult decision to make," explained Morten Aa Djupvik, Northug's coach.
The FIS Nordic World Ski Championships in Oslo run through until March 6th.