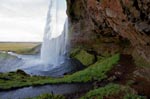 Trip Advisor, the world's largest online travel information website, has rated Reykjavik Excursion's South Shore Adventure tour in Iceland as a top destination for summer travel in 2011.
Reykjavik Excursions gained four out of five stars for its South Shore Adventure tour, where nature lovers get the opportunity to experience the formations of the waterfalls, Seljalandsfoss and Skogarfoss. Visitors also travel along the South coast of Iceland as far as Vik, a small and charming village surrounded by beautiful high bird cliffs.
Included within the tour is bus fare, guidance in English all days, German on Fridays and French on Wednesdays and entrance to the Skogar museum.
This incredible tour is an affordable way to see glaciers, black lava sand coasts and impressive rock formations within Iceland. Although the tour is open all year, it is especially breathtaking during Iceland's summer months.
Reykjavik Excursions is the leading organiser of day tours in Iceland and is a fully licensed tour operator and travel agent. Reykjavik Excursions operates one of the biggest bus fleets in Iceland, making the company one of the largest organisers of tours both for individuals and groups in Iceland.
To find out more regarding the South Shore Adventure, as well as other summer tours in Iceland, visit www.re.is.