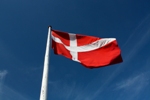 Denmark's Crown Princess Mary has given birth to twins – one girl and one boy. On Elvis Presley's birthday, Saturday January 8, Crown Prince Frederik and his Australian-born wife became the proud parents of the first twins to be born into the direct line to the Danish throne since 1660.
Speaking to the press at the Rigshospitalet hospital in Copenhagen after the births, Crown Prince Frederik said, "Mary has given birth to two healthy children; a boy first and then a girl. The boy weighs 2,674 grammes. The boy is 47 centimetres and the girl is 46 centimetres. The first birth took place at 10.30 am."
"The mother and children are well, very well – and so is the father," Crown Prince Frederik quipped, adding it had been "fantastic to be part of" a delivery that was "a miracle times two".
"Both twins have dark hair and both cried out. I am so impressed at women and what you can manage," the Crown Prince went on to say. "It is close to being unreal. You stand there with the first one, and the mother has to go on working, and then there's a girl. Amazing!"
The royal couple already have two other children, Prince Christian, 5, and Princess Isabella, 3. When asked if they had plans for any more, Crown Prince Frederik replied, "That's not something I'll stand here and say. That is something my better half also has something to say about."