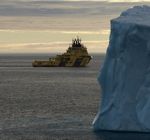 Cairn Energy has announced a significant step forward in its hunt for oil in Greenland after securing two rigs for its drilling campaign. The Scottish oil giant said the "state of the art" drilling vessels have been contracted in order to press ahead with plans for four wells in the Arctic region.
The firm also announced that stand-by debt funding of £575 million has been pledged by HSBC, Standard Chartered and the Royal Bank of Scotland, among others. It is believed that drilling could now begin as early as April since concerns that Cairn would struggle to secure rigs have been allayed.
"By contracting two vessels for the Greenland exploration programme, Cairn has increased operational capability and flexibility and continues to demonstrate its focus on safety," said Cairn chief executive Sir Bill Gammell in a report by The Scotsman. "We look forward to drilling up to four exploration wells offshore Greenland during 2011," he added.
Cairn began drilling around 110 miles off Disko Island in western Greenland in July 2010 in a joint venture with partners Nunaoil and Petronas. In October the company announced that it had written off £117 million in costs after abandoning two of its three exploration wells in the Arctic. At the time, Sir Gammell stressed that Cairn's plans in Greenland are "a marathon, not a sprint".
Further details of the company's drilling schedule are expected to be revealed in an operational update scheduled for January 27.