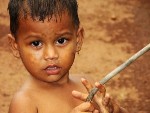 A new law passed this week by the Danish parliament will allow the repatriation of unaccompanied children seeking asylum in the country.
The new ruling is expected to pass in spite of protests by the Danish Red Cross, the Danish Refugee Council, the Children's Council, Children's Welfare in Denmark and Save the Children. It has the support of Christian Democrat, Conservative, Liberal and Danish People's Party factions in government.
According to Save the Children's policy consultant Inger Neufeld, the new law is 'an historic slide in the treatment of children, in which the welfare of children is not taken into account. Children are sent back almost automatically instead of evaluating the need for protection and safety in each individual case'.
The law is being introduced to halt the incresing flow of unaccompanied refugee children into Denmark, now standing at around 529 in 2010. Many who were refused entry, however, were previously allowed to stay as Danish Immigration authorities were unable to trace their parents. Under the new rules, reception centres will be set up in various countries, the first of which will be in Kabul, Afghanistan.
Liberal Integration Spokesman Karsten Lauritzen has rejected all criticism of the new ruling, saying, 'many of these children have been sent by their families who have perhaps paid $10,000 to a smuggler. To these people, we have to send a signal that children who take advantage of the system as part of a scam can only stay here for a short period'.
Save the Children are also protesting another point in the ruling, which states residence permits for minors will only be considered valid until the age of 18, at which point repatriation will be enforced. Neufeld claims this contravenes the UN Convention of the Rights of the Child, saying , 'Children who have experienced deep trauma cannot be put into a waiting position in Denmark for several years until they reach 18. That would be destructive for their development'.