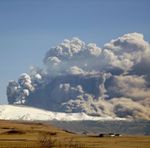 The American news magazine, Time has compiled "The Top 10 Everything of 2010", which consists of 50 "Top 10" lists.
The Iceland volcano, Eyjafjallajokull is featured in three of the lists including Top 10 Buzzwords, words which no one could pronounce properly; Top 10 Pictures, and Top 10 Travel Moments.
Jon Thor Birgisson, or Jonsi as he is better known as, from the Icelandic band, Sigur Ros also made one of the top 10 lists for his song "Animal Arithmetic". The song is listed in the Time Top 10 Best Songs of 2010 category.
Other categories in "The Top 10 Everything of 2010" include Medical Breakthroughs, Movies Performances, Fiction Books, Albums and many more.
The full list from Time magazine can be viewed here.