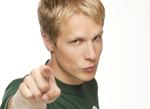 Comedian Oliver Pocher is to take on Iceland in a new episode of his television show, The Oliver Pocher Show.
Tonight's episode will see the funny man take on traditional Icelandic challenges such as eating rotten shark, drinking 'black death', swimming in the cold Atlantic Ocean, volcanic ash collecting and glacial ice climbing. He will also be taking to the streets of Reykjavik as the 'Street Cobra' where he will be interviewing the locals and getting himself into his usual mischief.
Oliver Pocher was previously spotted by IceNews at Icelandair hotel, Hotel Loftleidir in Reykjavik on 19th November. It was reported he was filming for a new television show, which has now been confirmed.
To see his Iceland escapades tune in via German television channel, Sat1 tonight at 10:15PM.