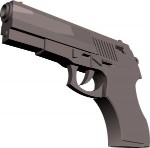 According to Dagens Nyheter, police in Malmo announced yesterday that suspicion towards the 38 year old accused of the shootings in Malmo over the last year has strengthened. He is charged on probable cause for one murder and five attempted murders but the police is also investigating him for another two attempted murders as well.
The court proceedings have received big interest worldwide from the media and the public. People were queueing outside the Malmo district court hours before the proceedings. The police was forced to help evacuate an associate of the accused as they felt harrased by members of the media.
Expressen reported on Tuesday that a technical analysis done by the National Laboratory of Forensics had revealed that at least one of the pistols found in the suspect´s home could be tied to one or several of the deeds for which the 38 year old is charged. However, Aftonbladet wrote on Tuesday that neither the police nor the forensics laboratory was prepared to confirm this information.
The accused man denies all charges against him.