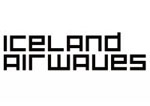 The only problem with the Iceland Airwaves festival is that because there is always so much going you can't be in two places at once, so you're no doubt going to miss out on something cool. IceNews decided to send out two different journalists to two different venues to see what happened; one off-venue, one on-venue.
Bar 11, located on Hverfisgata, is a small, dark, slightly dingy-looking pub. (it's certainly not a bar, it's a pub) and is one of the many off-venue destinations dotted around town. The venue was more or less busy, as the stage area can only accommodate a few selected individuals. However, Film, yep that's the band name, very up to the task of packing the place out. The band's mix of disco beats and surf style guitar licks and post-punk angles could warm the hearts of any music-fan. The front lady, Eleni Tzavara was the highlight throughout; pulling shapes, wide eyes and fierce vocals. Even when she wasn't singing her moves were sharper than any vertex. The crowd were happy. Sadly, Bar 11 had to close early, as advised by the police, so Murder (the band) were crossed off the list and I had to throw away my beverage.
The Reykjavik Art Museum (Listasafn) was crowded with the hippest of Reykjavik's youth, and the hippest of youth from mainland Europe. Two acts this evening were both super special; Iceland's very own Amiina and Denmark's Efterklang.
Some people know Amiina as 'the sigur ros girls', but for those who have delved a little deeper will know that Amiina have their own right of passage into musical history. Tonight the darling buds of Iceland put on a magical set of soft delicacies mixed with a new rockier direction of sound. The highlight was the formation of both Amiina and Efterklang on stage creating Earth-shattering noise able to fill the venue and to wake up the crowd far at the back. Good work girls.
Denmark's Efterklang showed confidence, musicianship and a keen ear towards composition tonight. The bands layers of texture and complexity shut the packed crowd up, keeping them all in awe. Efterklang were joined again by Amiina, almost probably to repay the favour. This eclectic mix of drums, electronics, brass, bass cut right through Listasafn. It sure was a sight not to be missed.