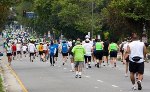 The Fokus Bank Oslo Marathon took place over the weekend with thousands of people participating in the event including a number of Norwegian celebrities running for various charities. The Oslo Marathon, held on the last weekend in September annually, is Norway's largest street marathon and this year's successful event was bigger than ever.
A number of celebrities ran for various charities that the Fokus Bank event supports including Johann Olav Koss's Right to Play and Active Against Cancer. Among celebrities running were Norwegian singer, Tone Damli Aaberge and Norwegian Model, Aylar Dianati Lie, who both accompanied and ran with blind participants for charity.
"I have never run so far before, 21 km was a real challenge. I usually only run around 10 km at a time and then either through woods or on the treadmill, so this was very tough and I'm no doubt going to be feeling it in my legs and hips tomorrow," commented Tone Damli Aaberge shortly after the event.
Aylar Dianati Lie, star of celebrity dance show "Dancing with the Stars", collapsed after her run on the second day of the event.
Lie said, "I was running as a guide for a blind person and fainted at the finish line. It looked more dramatic than it really was, I just fainted. I guess it was a little bit overambitious after just having pneumonia."
Aylar Lie's manager, David Eriksen added, "Aylar said she has had a very tough week. She has been practicing hard for the rumba and also recovering from pneumonia. In addition to this, she has been pushing hard with both the dance competition and her medicine studies at university."
All in all, the Fokus Bank Oslo Marathon was a huge success and plans have already begun for next year's event.
For more information about the Fokus Bank Oslo Marathon, ready for next year, visit http://en.oslomaraton.no/