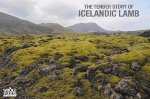 The U.S. chainstore, Whole Foods Market has recently created a short video about lamb in Iceland entitled, 'The Tender Story of Icelandic Lamb'. The video aims to promote the reintroduction of fresh Icelandic lamb to Whole Foods Market after it was sold in selected stores last year and received high praise from customers.
The video will be shown in 150-200 Whole Foods Market stores across the U.S., as well as on its website for 3 months this coming autumn when the selling of Icelandic lamb is due to begin.
Baldvin Jonsson, CEO of Áform, a marketing project that focuses on eco-friendly products, has been working on the marketing of Icelandic products in the U.S in recent years and explains, "We are now enjoying the benefits after years of patience."
In addition to this, Jonsson said that Icelandic yogurt and fresh Icelandic fish will soon be in all Whole Foods Market, which totals around 300 stores across the U.S..
Furthermore, Whole Foods Market is currently working on a brochure which will promote fresh Icelandic produce. It will be distributed in all of its stores and the caption will read 'Whole Foods Market is proud to introduce Iceland'.
To view the promotional video, see below or click here.