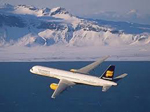 Icelandair, in cooperation with Alaska Airlines, is providing connecting flights to Canada from Seattle's Seattle-Tacoma International Airport, for those travelling from Scandinavia this summer.
Iceland's flagship airline, Icelandair, has announced it is providing onward flight connections to Canadian cities Victoria, Vancouver, Kelowna, Calgary and Edmonton, from those travelling from Scandinavia. These convenient connections will be conducted at Seattle-Tacoma International Airport in Seattle, Washington, USA.
"We look forward to partnering with Seattle-Tacoma International Airport in serving all westward travellers, including the large Scandinavian population of the Pacific Northwest." commented Thorsteinn Egilsson, General Manager at Icelandair, The Americas.
Icelandair is also offering four non-stop flights from Keflavik International Airport in Iceland to Seattle. These flights are scheduled on Tuesdays, Thursdays, Saturdays and Sundays, with departures at 16:30 from Keflavik.
Icelandair will also be providing return flights from Seattle to Keflavik International Airport, with connecting flights to Copenhagen, Oslo, Stockholm, Helsinki, Paris, Amsterdam, Frankfurt and London; offering up to 4 hours faster connection times from Seattle to Scandinavia and Europe than possible through other European hubs.
Additionally, Icelandair has entered a new codeshare agreement with both Alaska Airlines and Horizon Air, of which will include a reciprocal frequent flier partnership. This codeshare agreement will allow Icelandair to place its code on select Alaska Airlines and Horizon Air flights. The frequent flier partnership, scheduled to launch this fall, allows Alaska Airlines Mileage Plan members to earn and redeem miles on Icelandair flights between Seattle and Iceland and throughout Europe.
"Alaska Airlines and Horizon Air are delighted to welcome Icelandair as its newest Mileage Plan and codeshare partner," commented Rick Rasmussen, Alaska Airlines' director of customer loyalty and marketing programs. "Icelandair offers affordable and convenient options for our customers to earn or redeem miles for travel to Iceland and beyond through their easy connections to popular European destinations."
The airline continues to provide flights to Iceland from Boston, New York-JFK, Minneapolis/St. Paul (seasonal), Orlando Sanford (seasonal), Halifax (seasonal) and Toronto (seasonal). Connections through Icelandair's hub at Keflavik International Airport are available to 18 destinations in Scandinavia (including Copenhagen, Oslo, Stavanger, and Stockholm), UK (including London, Manchester) and Continental Europe (including Amsterdam, Berlin, Dusseldorf, Frankfurt, Munich, and Paris).
To find out more regarding connecting flights to Canada and direct flights to Seattle from Scandinavia, visit www.icelandair.com