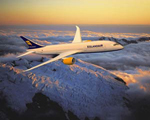 Icelandair, Alaska Airlines and Horizon Air have recently announced they are entering into a new codeshare agreement, of which will also include the launching of a reciprocal frequent flier partnership.
The codeshare agreement now allows Icelandair to place its code on selected Alaska Airlines and Horizon Air flights. The frequent flier partnership, scheduled to launch this Autumn, will allow Alaska Airlines Mileage Plan members to earn and redeem miles on Icelandair flights between Seattle and Iceland, and throughout Europe.
"The staff and I at Alaska Airlines and Horizon Air are delighted to welcome Icelandair as our newest Mileage Plan and codeshare partner," said Rick Rasmussen, Alaska Airlines' director of customer loyalty and marketing programs. "Icelandair offers affordable and convenient options for Alaska Airlines' customers to earn or redeem miles for travel to Iceland and beyond through its easy connections to popular European destinations."
Icelandair's general manager for the Americas, Thorsteinn Egilsson followed by saying, "as we celebrate one year of service from Seattle-Tacoma International Airport, we are pleased to strengthen the bridge for West Coast travellers wanting to explore Europe."
"Alaska Airlines' route network complements passengers connecting through Seattle on Icelandair. With nonstop service to Reykjavik, Iceland, and connections to over 20 of Europe's most popular destinations, our passengers can stop over in our beautiful homeland of Iceland for no additional airfare," Thorsteinn continued to explain.
Alaska Airlines Mileage Plan was named "Program of the Year" at InsideFlyer magazine's 21st annual Freddie Awards, the most prestigious consumer-generated honors in the travel industry.
Icelandair offers flights to Iceland from Boston, New York-Kennedy Airport, Seattle, and seasonal service from Minneapolis-St. Paul, Orlando, Halifax and Toronto, Canada. Connections through Icelandair's hub at Keflavik International Airport are available to over twenty destinations across Scandinavia, the United Kingdom and Continental Europe.
To find out more about the codeshare agreement and to book flights visit www.icelandair.com