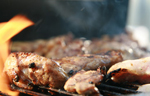 Leading restaurant in Reykjavik, Domo, is offering special barbeque party services for those looking to hold a stress-free get together within the heart of Iceland's capital.
Domo is set to offer barbeque parties all summer, for festivals, birthday parties, concerts, weddings and anything else partygoers are planning. Domo will provide the barbeque, plates, cutlery, drinks and of course food, including grilled lamb, BBQ chicken, grilled pork, garlic potatoes and hamburgers.
Domo, labeled as the "kitchen without boundaries", not only specialises in barbeques, but is also one of Reykjavik's best fresh fish restaurants serving a variety of pure Icelandic sushi, depending on the catch of the day. In addition, Domo also offers its renowned Asian/French inspired a la carte menu for those seeking an exotic yet classic dish, as well as a great selection of wines, sake and an extensive whiskey collection.
The culinary website foodandwine.com placed Domo within its prestige 'Go List' as one of the top European restaurants to dine during 2008, because of its quality and comfortable in-house dinning atmosphere.
For more information on booking barbeque parties with Domo visit www.domo.is