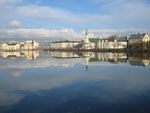 Tonight's 'Iceland Inspires' concert featuring Damien Rice has been forced to move its location to central Reykjavik due to adverse weather conditions in the south of the island.
The open-air 'Iceland Inspires' concert was set to be held at the Hamragardar campsite near the Seljalandsfoss waterfall, but has now been moved to the Hljomskalagardur park, located next to Tjornin in downtown Reykjavik.
Despite this change in location, the free concert is set to be just as exciting and more accessible than before, allowing more people to get involved in this memorable event, as well as the Inspired by Iceland campaign. 'Iceland Inspires' will still also be streamed live around the world on the Inspired by Iceland website, inspiredbyiceland.com.
Performing live alongside Damien Rice, will be Spiritualized: Acoustic Mainlines, Seabear, Lay Low, Amiina, Dikta, Glen Hansard, Hafdis Huld, Hilmar Orn Hilmarsson, Mammut, Parabolur, Pall a Husafelli, Pondus and Steindor Andersen. Pre filmed songs for the online streaming will come from For A Minor Reflection, Retro Stefson, Gus Gus and Hjaltalin.