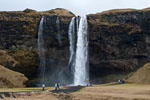 Irish singer-songwriter Damien Rice is amongst the line-up for the monumental 'Iceland Inspires' concert, which is being held tomorrow evening close by the now quiet Eyjafjallajokull volcano.
'Iceland Inspires' is a free open-air concert taking place at the Hamragardar campsite next to the Seljalandsfoss waterfall. The concert, which is a part of the Inspired By Iceland campaign, will not only be staged around the stunning backdrop of the waterfall, but will also be streamed live around the world on inspiredbyiceland.com.
Performing live alongside Damien Rice, will be Spiritualized: Acoustic Mainlines, Seabear, Lay Low, Amiina, Dikta, Glen Hansard, Hafdis Huld, Hilmar Orn Hilmarsson, Mammut, Parabolur, Pall a Husafelli, Pondus and Steindor Andersen. Pre-filmed songs for the online streaming will come from For A Minor Reflection, Retro Stefson, Gus Gus and Hjaltalin.
Inspired By Iceland is a tourism campaign that was set up to help promote Iceland after the number of visitors to the country dropped due to the recent Eyjafjallajokull volcano eruption. The campaign intends show the rest of the world that Iceland is still a safe place to visit and is more alive than ever.