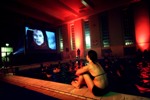 The Reykjavik International Film Festival (RIFF) is making preparations for its 7th consecutive year of showcasing independent films in the heart of Iceland's capital city, Reykjavik. The festival, taking place this year between September 23rd and October 3rd, has become one of Iceland's most popular cultural events, offering both Icelandic and international film enthusiasts a wide selection of alternative and independent cinema.
The Reykjavik International Film Festival began back in 2004, when a group of film enthusiasts and professionals wanted to create an annual international film festival in Reykjavik. Their aim was to establish a major film event in order to enrich and enliven the local film culture but at the same time to achieve international appeal.
The Festival Director, Hronn Marinosdottir, commented, "We believed that by building up an innovative film festival in Reykjavik, our foreign guests would have a unique opportunity to participate in an exciting cultural event, as well as the chance to visit a country renowned for its natural wonders and dynamic culture."
Last year's festival was a smash-hit, with sold out passes achieving the highest recorded ticket-sales and acclaimed raving reviews. One of the festivals all-over highlights was the visiting honorary guest Milos Forman, a two time Academy Award winning director.
RIFF 2010 is set to be even more diverse and exciting than last year, not only for the audience in the cinemas, but also for young and uprising film producers as well as respected film professionals.
For further information on the Reykjavik International Film Festival visit www.riff.is/EN