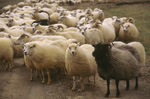 The Yarn craft festival Loops has announced two new events for its off-venue programme, The Woollen Circle and Reykjavik LYS walk, to get you inspired by Icelandic knitting.
The Woollen Circle: Imagine yourself on a sightseeing bus tour driving through the wonderful nature of Iceland on your way to Gullfoss and Geysir, just outside of Reykjavik. All of a sudden you spot a yarn store in the distance, your heart starts racing and your mind goes AWOL thinking about the incredible wool awaiting but the bus just passes by without even slowing down.
We understand your feelings, that's why Knitting Iceland is now offering a different type of sightseeing tour, not only with lots of lovely nature, waterfalls and such, but also stopping at places we knitters just love, such as meeting farmers, spinners, local 'yarnies' and knitters. You can even get to try out your spinning skills with Icelandic wool.
Reykjavik LYS walk: During this downtown walking tour, participants will visit Reykjavik's most interesting Local Yarn Stores and also get to meet the people behind the Icelandic knitting craze. Iceland's store owners and staff will greet us with their usual warmth and kindness, tell us something about their selection and introduce their special offers.
In addition, we will stop by and meet with Asta, a wool and knitwear designer at her workshop to hear about her passion for Icelandic wool. Last but not least, we will end our walk at Kraum, the hub of Icelandic design, within the heart of Reykjavik.
Visit www.knittingiceland.com for more information on The Woollen Circle and Reykjavik LYS walk.
Textile centre at Blonduos: Here you can attend workshops and courses between Thursday to Friday, at the Textile Centre in the old Womens' College in Blonduos (northwest Iceland). Blonduos, in northwest of Iceland, has a deep tradition of sheep farming and working with wool. The courses are aimed at exploring the tradition of working with wool fibers and the roots of knitting/crocheting techniques. The Wool-washing factory of Istex (Icelandic Textiles – the Lopi manufacturer) will also be visited, as well as the Textile Museum.
To see the full program visit www.nordichouse.is