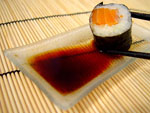 The fish and seafood industry have both been synonymous with Iceland and its restaurants since the late fifties. Today is no exception, with sushi restaurants on the rise in Reykjavik.
Leading Icelandic sushi restaurant Domo, labelled as the "kitchen without boundaries", is one of Iceland's finest seafood restaurants serving an array of pure Icelandic sushi and fresh fish, depending on the catch of the day.
Since Domo opening its doors in 2006, the restaurant has been sought-after amongst both locals and food critics for its expertise and welcoming dinning environment. Domo was even ranked in online magazine foodandwine.com's 'Go List' as one of the top European restaurants to dine during 2008.
The seafood restaurant continues to 'cook up a storm' for 2010 with its brand new a la carte menu inspired by Asian/French cuisine, and expectations are already high for the restaurant's ongoing innovative style.
Domo also boasts as an incredible selection of wines, sake and whiskey to compliment your dinning experience.
To view the new Domo menu for 2010 and to enquire about reservations visit www.domo.is