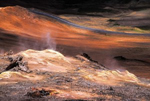 Travelling during the summer months in Iceland is a magical experience; this is the time where Iceland's beauty shines through its luscious greenery and breathtaking waterfalls. Self drive holidays are undoubtedly an ideal way to explore these wonders of Iceland at your own pace.
Going it alone on the open road has become increasingly popular with travellers looking for a unique and flexible holiday in Iceland. With this in mind, leading travel-booking agency Nordic Store offers a range of self drive holidays to suite every traveller, whether looking for peaceful tours across the Icelandic landscape or specialist adventures.
The Express Circle Tour is one of Nordic Store's most popular self drive holidays, offering an incredible driving experience through the interior of Iceland via the Kjolur highland track, a mountain pass between two of Iceland's largest glaciers. Over the course of 8 days and 7 nights, you will stay 5 nights at different hotels across the Icelandic countryside, and 2 nights in the capital city of Reykjavik. During your trip you can visit the mighty Geysir, the spouting Stokkur hot springs, various incredible waterfalls, national parks and other natural wonders.
All packages with Nordic Store vary from 2 – 15 days and include a rental car of your choice, alongside accommodation in hotels, guesthouses or even farmhouses.
To find out more about self drive holidays in Iceland and for booking enquires visit http://exploreiceland.is