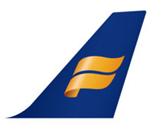 A new website has been set-up by the Icelandair Group to help those stranded or waiting for flights in Iceland, Europe and North America. The website holds all essential information concerning the volcano, ash fall coverage, passenger safety and up-to-date flight schedules.
The website contains in depth information on surrounding ash contamination in Iceland, where the volcano is located and vital safety information concerning safety restrictions.
Passengers awaiting flights can also find information on re-booking flights, flight refunds, the current situation in Iceland and what to do next. The website also contains live feeds and links to web cam videos at the eruption site.
In addition, various credible sources of information can be found via links to the Civil Protection Department, Icelandic Tourist Board, Icelandic Met Office and Volcanic Advisory from London.
Visit http://www.icelandairgroup.is/volcano/ for more information.