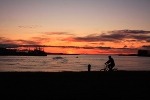 For those of you lucky enough to be planning a cruise ship visit to the 'land of the midnight sun' over the summer months, the port of Hafnarfjordur is the perfect place in Iceland to dock and enjoy some unique cultural activities.
Once you arrive in the wonderful port of Hafnarfjordur, passengers of the visiting cruise ships can experience numerous tours and activities within the surrounding area. The most renowned tours are to the popular Golden Circle, which includes a trip to the site of Iceland's first parliament, Thingvellir, the gushing fountains of Geysir and the breathtaking waterfall of Gullfoss, otherwise known as the Golden Falls.
Amongst other favourite tours is to the incredible geothermal area of Krysuvik and the natural spas at the Blue Lagoon. Hafnarfjordur also offers numerous conventional activities and attractions, including local museums, galleries, swimming pools, horseback riding and even a golf course. Furthermore, across the month of June the town plays host to the annual Viking Festival.
The beautiful Hafnarfjordur is Iceland's third-largest town, with over 25,000 residents, and contains beautiful landscape for Iceland is famous for.
Port of Hafnarfjordur is also one of Iceland's largest ports, and ensures an ice-free harbour all year round.
To find out more information about summer cruise ship ideas in Hafnarfjordur and Iceland visit www.portofhafnarfjordur.is/