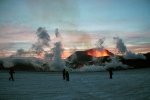 The volcanic eruption near the Eyjafjallajokull glacier is turning out to be the hottest destination for tourists this spring. Icelandtotal.com is a one stop travel shop that offers several volcano tours and packages deals.
Opposed to what most people may think, the eruption site is in fact very "tourist friendly" and extremely accessible. Over 10 thousand people have visited the eruption site over the past week already. You can get up close and personal to see the volcano in action, experience the smells, sounds and even feel the earth vibrate from the sheer force of the volcano underneath your feet. Then why not take a piece of volcanic rock home with you as a souvenir of your experience?
Icelandtotal.com is ideal for travellers interested in visiting Iceland as it offers several holiday packages and single day tours to the Fimmvorduhals volcanic eruption region. Travellers are that way given a once-in-a-lifetime opportunity to witness the magnificence of mother nature in person.
The Iceland travel company offers special package deals that include three nights accommodation and a Super Jeep tour to the eruption site. You can also take the self drive option and stay at a hotel near the eruption site.
Single day tours are also available at the online shop, where you can choose from a guided bus tour, Super Jeep tour, or a Helicopter sightseeing tour over the area.
More information about volcano vacations and travel deals in Iceland is available at www.icelandtotal.com