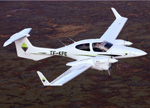 Would you love to see the recent volcanic eruption at the Eyjafjallajokull glacier in Iceland from the air? Well, with the Keilir Aviation Academy you can. Experienced pilots will take you high above the plume, allowing you to take a breathtaking journey over the volcano, something you cannot find with traditional tourist trails.
Keilir Aviation Academy has a fleet of 5 aircraft available to introduce flight training to prospective customers, including two two-seater aircraft suitable for one passenger each, two four-seater aircraft suitable for three passengers and an additional four-seater aircraft that can cruise up to speeds of 160 knots – all with experienced pilots.
Each one of the Academy's aircraft has outstanding visibility for photographic opportunities, as well as GPS navigation units and large operational map displays showing the aircraft position in relation to terrain and landmarks. Furthermore, all four-seater aircraft are IFR equipped, offering flight reliability in case of weather disturbance during flights.
The Keilir Aviation Academy offers professional flight training, headed by highly experienced staff of airline pilots and instructors.
For more information about visiting the volcanic eruption at Eyjafjallajokull with the Keilir Aviation Academy visit http://en.keilir.net/aviation-academy