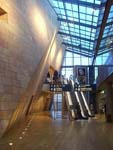 Keflavik International Airport has been voted the best airport in Europe by participants of an extensive airport service survey by Airports Council International. The comprehensive survey is published quarterly and annually with 140 major airports worldwide taking part, 48 of which are in Europe. Passengers answered a number of questions about the quality of more than 30 service factors and Iceland's international airport came out on top.
Keflavik International Airport has participated in ACI's prestige survey since 2004 and generally achieves one of the top three positions for European airports. However, this year Keflavik Airport scored highly overall in passenger satisfaction, due to accommodating staff, ease of connected flights and its friendly atmosphere. Passengers also stated how extremely pleased they were with baggage delivery, access to baggage strollers, banking and restaurants in the terminal.
"A prerequisite to achieve such success is listening to the customer and striving to meet their needs" says Bjorn Oli Hauksson, CEO of Keflavik International Airport.
Survey participants also indicated their gratification towards the airport's huge range of duty free stores. The Keflavik shopping area hosts eighteen retailers in total, selling a range of items from electrical goods to clothing, all at reduced prices. Confectionary items, liquor, cosmetics and tobacco are also widely available. In addition to this, due to the favorable rate of the exchange rate, Iceland is becoming even cheaper for visitors to the country.
Furthermore, the arrival terminal accommodates a coffee shop, bank and grocery store that are all open to the public. There is also a tourist information centre, bus terminal, car rental and airport car park for ease and convenience.
For more information about Keflavik International Airport and its facilities visit www.kefairport.is/English