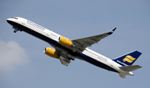 The Mid-Atlantic Workshop and Travel Seminar in Iceland hosted by Icelandair is now in its 18th year and bigger than ever. Over the years the seminars have proved successful in strengthening business relationships between travel industry professionals in Europe, the USA & Canada. The location couldn't be better placed to bring the two continents together than in the middle, Iceland, which is also easily accessible with Icelandair's transatlantic flights.
For people working in the travel industry or leisure and adventure tourism, the Mid-Atlantic Travel Seminar is undoubtedly the most accessible entry to the forever growing markets on both sides of the Atlantic and in Iceland. At the Mid-Atlantic Travel Seminar, participants have the chance to meet suppliers from Iceland, Scandinavia, the USA and Canada.
In its 18th year, the Mid-Atlantic Workshop and Travel Seminar is proving more popular than ever due to peoples growing interest in Iceland and the Icelandic tourism industry. Iceland gained a lot of attention recently after the global travel guidebook, Lonely Planet, ranked Iceland in the top 10 travel destination for 2010. Lonely Planet, amongst other things, named Iceland as being the best value for money travel destination highlighting the potential that the tourism industry in Iceland holds for 2010.
The Mid-Atlantic Travel Seminar takes place between the 4-7th February 2010 and consists of numerous seminars and workshops at Laugardalsholl in Iceland's capital city, Reykjavik. In addition to this there are city sightseeing tours, formal dinner parties, a choice of excursions to numerous locations in the Iceland countryside and also a Viking Feast taking place at the Viking Village restaurant.
For more information about the conference click here but for details about Icelandair and the services they provide log on to www.icelandair.com