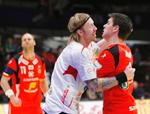 The Icelandic handball team go through to the semi-finals of the EHF European Handball Championships after battling it out with the Norwegian team in Austria this afternoon.
Iceland dominated the game leading all the way until Norway finally took the lead for the first time during the last 10 minutes. However, the Icelandic team showed true sportsmanship and fought it out until the end, providing an exciting and impressive finale to an overall great performance of handball.
The goal difference was marginal with the final score being 35-34 to Iceland. Nevertheless, Iceland now go through to the semi-finals and will be playing again this Saturday in hope of going on to the final which takes place on Sunday.