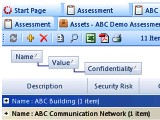 Risk Management Studio is software from Stiki designed for companies, institutions and local government bodies wanting to guarantee security in the processing of information. The program is based on the methodology of the ISO/IEC 27001 and ISO/IEC 27002 security standards, implemented in October 2005 and July 2007.
The RM Studio 2.1, the latest in the series of state-of-the art applications, is an IT Governance, Risk and Compliance (IT GRC) tool that provides a single collaborative workflow helping to attain the ISO/IEC 27001 in much shorter time. The software is designed for managing international standards, compliance mandates, create policy management efficiencies and helps in controlling business risks.
Risk Management Studio automates repeatable processes and allows organisations to rapidly respond to compliance requirements, audit requests and evolving business risks. RM Studio 2.1 is supported with a GAP analysis and Risk Assessment functionality which helps the assessor with information on status of implementation and current risk profile of the organisation, according to the requirements of ISO/IEC 27001:2005.
Clients of Stiki using the RM Studio 2.1 software have claimed up to a 50% time save when using the RMStudio for ISO certification because it provides a sharper and faster way to assess operational risk and check compliance to ISO/IEC 27001 combined with greater flexibility and new features. These new features include User defined Evaluation templates and values, Authentication model, Authorization model, License and Registration window, Assessment, Risk, and Asset in Assessment history, User Defined Asset Categories, New Report: Executive Summary, New Report: Risk Treatment, New Report: Asset Controls, Improved performance in Risk Treatment, Incorporating global Risk Treatment Controls, and Improved SOA Report that fully complies to ISO/IEC 27001.
For more information and free video tutorials on ISO/IEC 27001, visit the
website www.riskmanagementstudio.com
(Advertisement)