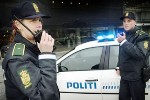 The Danish tabloids call her the 'queen of the jet set', and she's reportedly a close friend of the royal family. But now the 40 year-old businesswoman, whose identity is being kept a secret by Danish courts, can add drug trafficking to her list of titles. Police say she is involved in a major drug smuggling ring, but her involvement is only the tip of the iceberg.
Danish police have been working on a massive drug investigation since May that could end up being the largest bust in the nation's history. The woman has been charged with trafficking 140 grams of cocaine, but that is just a drop in the bucket if investigators are correct about the size and range of the drug ring.
What makes the arrest of this businesswoman so alluring to the media is that she is a prominent figure in Copenhagen's high society and has close friends among the capital's notorious nightlife circuit.
She has denied all charges of drug trafficking, and was released from police custody according to the Copenhagen Post. However, if she is convicted on the charges she'll get to spend up to a year of her life mingling with the high-flyers in a Danish prison.
See more at the CPHPost.