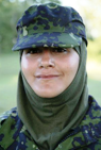 Soren Gade, the Defense Minister of Denmark, has informed Parliament that Muslim women working in the Danish armed forces will not be allowed to wear their traditional headscarves anymore while on duty. The recent debate has threatened to boil over into a social bias issue, but the military is standing firm that their uniform is distinct and necessary for a purpose.
"I find wearing for example a headscarf, to be incompatible with a military uniform. Both in the regular defense forces and the Home Guard," Gade said in a written answer to a parliamentary question from Unity List MP Per Clausen.
The Politiken reports that Gade insists military uniforms have a specific function. "Uniforms for military personnel ensure, among other things, uniformity so that it is possible to recognize members of the armed forces and distinguish them from the civilian population. The uniform is also designed in such a way that it provides the individual soldier with the maximum security possible. That is why it is not possible to show the same flexibility for employees serving in military functions as that proffered to their civilian colleagues," Gade commented.
The response from the Defense Minister comes after a week of debate over a female Home Guard solider, Maria Mawla, who was given permission to wear her headscarf under her helmet while in uniform. The Danish People's Party, however, reacted strongly to this in a Parliament session and demanded the Home Guard either enforce the uniform code or tell Ms Mawla to find another job.
For more check out the Politiken, Danish news site.