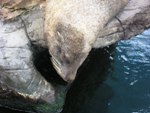 The European Union has placed a "seal ban" which prohibits the import of seal products into the EU market. This greatly affects nations that have high Inuit populations which often rely on the seal trade. The Inuit nations call this act by the EU unjustified and cynical, according to SivuNews.
"All Inuit from Russia, Alaska, Canada, and Greenland are standing in solidarity against the EU on this, as hunting sustainably and humanely is something we have done for thousands of years and continue to do so." Vice President of International Affairs at Inuit Circumpolar Council in Canada says.
"The seal ban is an abomination because it directly attacks cultures, communities, and livelihoods that represent a basic means of living for many here in Canada." President of Inuit Tapiriit Kanatami and national leader of the Inuit in Canada, Mary Simon says.
However, not everyone is against the seal ban. The International Fund for Animal Welfare labels this ban as "a significant victory" in ending the commercial seal hunt in Canada.