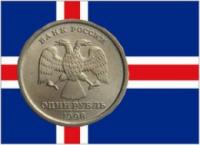 The Russian government has decided to approve a loan to the Icelandic government up to 64 billion Icelandic kronur (500 million USD). According to the Russian news source, Vedomosti, Assistant Secretary of Treasury in Russia Dmitry Pankin approved this today.
According to the Barents Observer, the loan negotiations have been in progress for quite some time. Russia has much interest in Iceland due to its energy resources and geographical location. Icelandic President Olafur Ragnar Grimsson said a few months ago that Iceland needs to find new friends since some close allies refused to grant Iceland a loan. The President then offered to Russia use of the Keflavik Airport for military operations but the Russian government denied this proposal.
See the full article at the Vedomosti or Barents Observer.
(Photo/BarentsObserver)