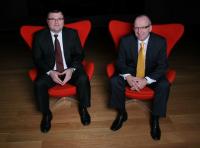 Føroya Banki, a leading bank on the Faroe Islands, has shown interest in taking over SPRON (Reykjavik Savings bank), the last of the major Icelandic banks to fall, Morgunbladid reports.
Føroya Banki has a network of around 10 branches on the Faroe Islands in addition to a newly established branch in Denmark. The bank services private, institutional and commercial customers on the islands and abroad.
Several groups of investors have shown interest in buying or taking over SPRON, but Føroya Banki is the first to come in from abroad.
Føroya Banki profit was some 860 million Danish Kroner. According to the bank's annual report their assets where around 218 billion Icelandic Kronur or just over 10 billion Danish Kroner.
The new board of SPRON hopes that a binding offer will be made by the end of next Monday. Information on Føroya Banki can be found here and on SPRON here